While
I-Phone 6
is heard to be launched, the news of
Samsung Note 4
is being interesting these days.
because samsung is going to launch Galaxy Note 4 before the launch of Apple I-Phone 6s
on 9 Sptember.
While Apple I-Phone is heard to be launched on 12th of September.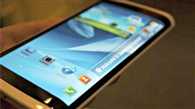 A lot of competetion we shall see in the second weak of the September.
Talking About features there is a 20.5 Megapixel camera and an Octa-Core Processor.
It is coming with
4GB RAM and 128GB Internal Memory
.
It means your gaming experience will be awesome with this device. Not only Gaming you are getting a mini hard disk of 128GB storage.
So i am very excited about this competitive launch.
I am sure that you will be amazed to see this device.
The price is not decided.
be active for the price estimates.
Be aware
Look Before you leap and
Surf before you sleep.